There are many platforms which help to make a good website. But WordPress CMS(Content Management System) is different from others. WordPress powers 455million+ websites on its own! That's pretty impressive if you ask me, so let's take a look at some of the benefits of using WordPress to run your website and business.
Top WordPress Benefits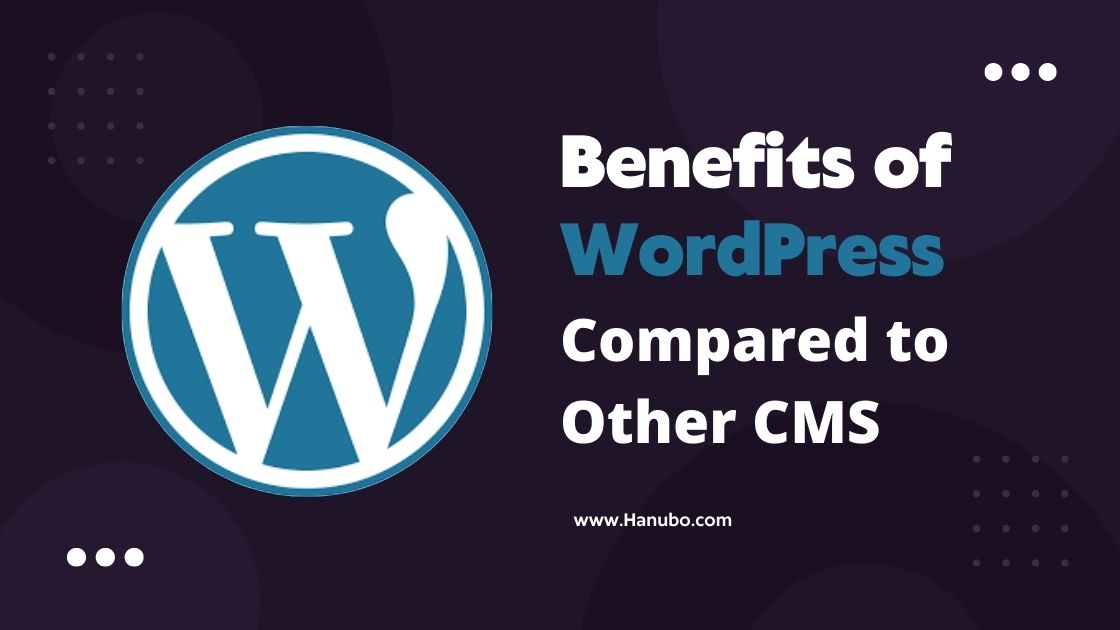 Ease of Use
If you're new, then WordPress is a great way to dive in. Easy-to-use templates and straightforward functionality make for a smooth entry point for new bloggers or website owners. You can easily use its admin dashboard.
Plus, there are dozens of ways to customize your site as you get more familiar with its ins and outs. You can choose any themes according to your website and customize them with different easy features. Whatever you choose, it's easy to use and even easier to modify later on.
And that means you need to spend less time fiddling around with technical details and more time writing—which should be what we're all here for anyway!
WordPress Plugins
Plugins are very useful which help to add functionality to your website. It is the most important feature of WordPress. The number of plugins that are available for your website is one of its biggest assets. Many plugins can automate tedious tasks and help you create unique and custom pages to help set your site apart.

But the challenge is knowing which ones to use because 3-4 plugins do the same work and are available with different names. Some people may be intimidated by all of these options but with a little research, you'll be an expert in no time.
Quick Installation
For an installation that's quick and painless, look for a host with a one-click installer. Once you create your website, you shouldn't have to worry about searching for updates or technical support.
It's very important to choose a company that offers the best service and is available to contact via phone, email, or chat. If you want things to run smoothly and be taken care of quickly, ensure your site has automatic software updates so you don't miss out on performance improvements or bug fixes. According to my experience, Hostinger is one of the best hosting services for beginners because of its price, and customer support.
We know not everyone has much time during their busy day; however, making sure there is no lapse in services is crucial if you want your customers to feel valued and respected.
This means taking proactive steps to ensure problems are resolved quickly and easily when they arise. You should also consider using a managed hosting provider, which can provide additional security measures like firewalls and malware protection.
Search Engine Optimization (SEO)
SEO is always changing, which means that website owners need to make sure they're up to date on all current updates to take advantage of them.
New websites should be incorporating keywords and relevant content as much as possible. If you're just starting a new website, you'll want to spend some time creating original, high-quality content (as opposed to reusing old material) that includes your target keywords.
There are several ways to ensure that your site will rank well within search engines, including writing meta descriptions for each page, using relevant tags and categories, and linking back to other sites within your niche.
To learn more about SEO best practices, check out the Blogs Knowledge website.
Security
In recent years, there have been many changes to how content is stored on web servers. Not only does that affect sites that don't use WordPress, but also those that do!
This software is highly secure and updated regularly with security in mind. That doesn't mean your site can never be hacked, or you will never be a victim of malicious attacks – no one has a crystal ball for that kind of stuff.
But what it does mean is that we take care to minimize your risk and make sure you are up-to-date with the latest security fixes.
You'll feel more at ease knowing that all-important information is kept safe behind walls. You can even protect yourself further by installing some extra plugins which come with an additional layer of protection such as Jetpack or Sucuri Security (free).
These plugins help to secure your website from hacking attacks like SQL injection, spamming, login attempts, and many others.
Strong Community Support
The WordPress community is exceptionally friendly and supportive. It's not just helpful for new users, either—WordPress pros actively help each other out, too.
The WordCamp conferences are a great place to meet people in person and learn about new features in workshops and presentations.
There's also plenty of assistance available online through user forums, email lists, and blogs. Many designers offer custom design services for WordPress sites too—an invaluable resource for getting your website off on the right foot.
WordPress Updates
Unlike some software that leaves you to wait around for bug fixes and new features, WordPress keeps its codebase up-to-date with new releases.
Most people consider updates a nuisance, but it's important to keep your site protected. Not only does updating your site help you avoid security risks, but if you have any plugins or themes that are no longer being updated by their creators (or are outdated), they can also cause problems when they're not in sync with your core CMS.
Keeping your site up-to-date will ensure everything is compatible and working together smoothly—and also reduces vulnerabilities because all critical patches are released sooner rather than later.
With a little bit of maintenance every month or so, things should be running pretty smoothly on your site!
WordPress Theme Customization
Although not as simple as a drag-and-drop site builder, modifying an existing theme or creating a new one can be a good way to build a site to fit your brand. You can use a paid theme from Envato for better theme features. Also, you can use a page builder like Elementor and Wp-bakery, etc for a beautiful website.
If you're skilled in design and HTML, designing your themes is fairly easy. Additionally, there are plenty of tutorials online on how to do it—meaning you can learn at your own pace.
These customization options will allow you to create any kind of site and have access to all kinds of plugins that can offer extra functionality for your business.
You can easily make your e-commerce website on WordPress with a simple theme, paid theme gives you all options and also install woocommerce.
Speed
Since its release in 2003, WordPress has become one of the most-used content management systems (CMS).
According to a report by Pingdom, it powers more than a quarter of all websites on the Internet. One reason for its popularity is that it's quick to set up and easy to use.
All you need is an email address and web hosting service (most internet service providers will offer those for free) and you can set up your site.
The process doesn't require any coding knowledge so designers who have only basic HTML experience can get up and running in no time. And while most users are laypeople, there are plenty who find it much easier to customize their website using WordPress as compared to using a coding tool such as HTML5 or CSS3.
Make Some Content with AI- Check here
---
You can contact me for making a Good-Looking WordPress Website.
Read More