Dentist
---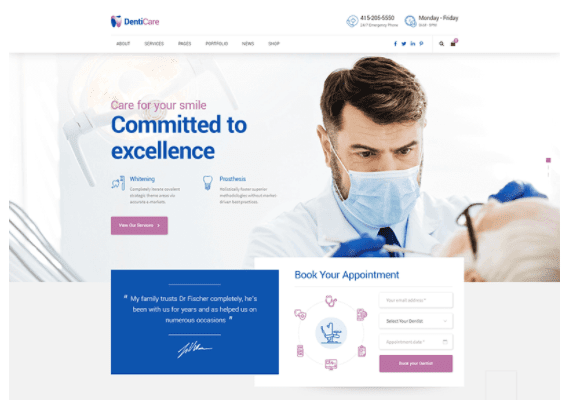 Dental Problem is increasing Day by day because of food, So you can easily earn if you are a dentist. You can make your website and increase the popularity and brand awareness of your Dental clinic online. Anyone can check your services or work, and also take appointments online. We will help you to increase your clients by making a website and doing marketing for your Dental Clinic.
Dentist website designing portfolio
A good website design is important for any business, but it's especially important for dentists. Your website is often the first impression a potential patient will have of your practice, so it's important to make sure it's a good one! There are a few key things to keep in mind when designing a dentist website.
First, your website should be easy to navigate and understand. Second, it should be visually appealing and professional. And lastly, it should be informative and give potential patients all the information they need to know about your practice.
If you're looking for some inspiration for your dentist website, check out our portfolio. We've designed websites for dentists of all specialties and sizes, so you're sure to find something that fits your needs.
Dentist Website
Designing a dentist's website can be tricky. You want to create a site that is both professional and inviting, while also providing potential patients with all the information they need to make an informed decision about choosing your dental practice.
A good dentist website will include:
The name and contact information of the dental practice, including address, phone number, and email address
A brief overview of the services offered by the dental practice
A photo gallery showcasing the work of the dental practice
Detailed information on the dentists themselves, including their qualifications and experience
When designing a dentist's website, it is important to keep in mind that first impressions are everything. Potential patients will likely base their decision on whether or not to book an appointment with your practice based on your website design. As such, it is essential to create a site that is both visually appealing and easy to navigate.